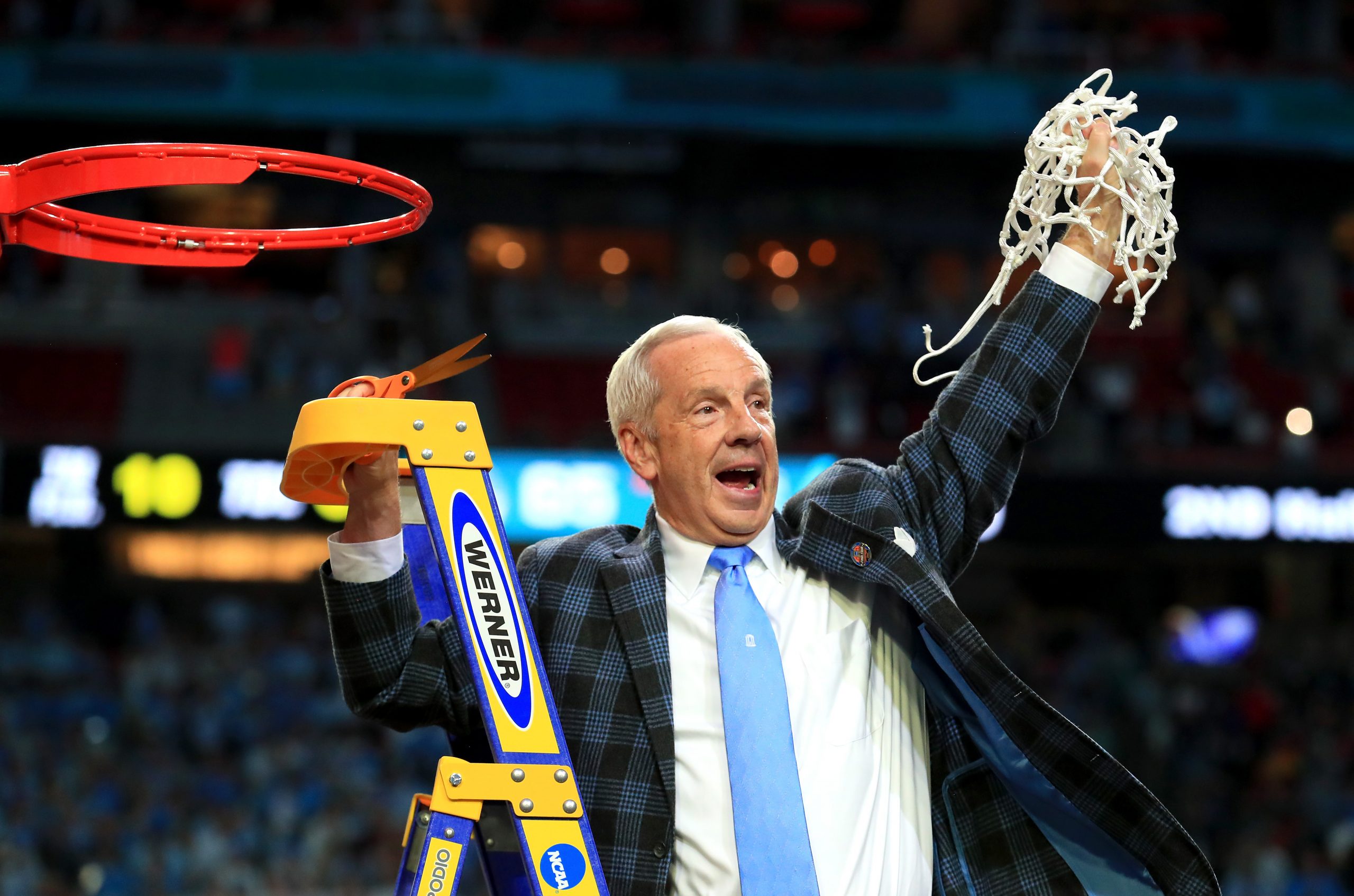 Roy Williams: Rare coaching missteps fueled retirement
Hall of Fame coach Roy Williams details the decision-making process behind his April 2021 retirement, including advice from fellow Hall of Fame UNC coach Dean Smith, rare missteps during the 2019-20 season and pandemic-induced distance from his players.
Roy Williams: Stayed at KU to fulfill promise to Nick Collison
 Legendary NCAA basketball coach Roy Williams looks back on two of the hardest decisions he's ever made: opting to remain coach of the Kansas Jayhawks in 2000 and eventually leaving to coach at the University of North Carolina in 2003. He departed KU after posting a record of 418-101 over 15 seasons. 
Roy Williams chokes up over his mom giving him 10 cents
Hall of Fame coach Roy Williams shares fond stories of his mother Lallage (aka Mimmie), including her joy when Roy became the first in the family to go to college, her supporting the family in the face of financial turbulence and two separate (relatively small) monetary gifts to Roy that still evoke emotions today
Roy Williams: Alcohol changed my dad
Hall of Fame NCAA coach Roy Williams talks of his father, Mack Clayton "Babe" Williams. Coach Williams recalls how his dad's alcohol addiction changed him and created significant distance in their relationship.
Roy Williams: The lowest period of my 33 years as head coach
 Hall of Fame coach Roy Williams reflects on his name and questions of integrity landing in the media spotlight during the NCAA's six-year investigation into academic fraud committed by athletes at the University of North Carolina.
Roy Williams: Stress of coaching led to sleepless nights
Hall of Fame coach Roy Williams candidly shares the downsides of his profession, including self-induced stress and a lack of sleep. Coach said he put immense pressure on himself and the "lows" of the profession were always lower than the height of the "highs."
Roy Williams: Michael Jordan needed to work harder
 Hall of Fame coach Roy Williams remembers his first impression when recruiting Michael Jordan to North Carolina and the life-changing advice he offered that helped optimize MJ's intense desire for greatness.
Roy Williams: Marriage with Wanda and a jockstrap proposal
Hall of Fame coach Roy Williams gushes over his wife Wanda, including how she has kept him grounded throughout their 48 years together and how she's strong in aspects of life where he is weak. Plus, Coach Williams offers up examples of his disdain for technology, including how the University of North Carolina issued him a computer, which he never opened in his 18 years as head coach of the Tar Heels.
Roy Williams: UNC offered me just $2,700 per year
Roy Williams lets us in on how it all started. He recalls breaking into a local elementary school to shoot hoops, finding a passion for coaching before his sophomore year in high school and accepting a remarkably low-paying position at the University of North Carolina, under Coach Dean Smith. 
Roy Williams: Never miss a UNC football game
Roy Williams invites Graham to a North Carolina Tar Heels football game, where he shares his passion for their games. Several UNC fans offer their fond memories of Coach Williams and former athletic director Dick Baddour joins the conversation to recount the difficulty and eventual success of recruiting Coach back to Chapel Hill. 
Two days in Chapel Hill with Roy Williams: Behind the scenes
 A look behind the scenes at our two days in Chapel Hill, North Carolina with Hall of Fame basketball coach Roy Williams. We luck out with the weather at a Tar Heels football game, Coach relinquishes an opportunity to advise Graham on the show, Seth captures beautiful drone footage (attaboy Seth) and much more.